Our goal is to provide support and guidance to elders and adult caregivers at home, in the workplace, or across the miles by delivering a broad range of services in the most cost-effective and beneficial manner. When it's time to care for those who cared for you, ParentCareUSA can assemble the pieces you need to develop a comprehensive and thoughtful strategy for your elder.
1999
The founders each had a parent who suddenly became gravely ill. And, each of their parents lived 300 miles away. Immediately, they needed to become experts in navigating complex issues surrounding home health care services, nursing home services, Medicaid planning, real estate, and asset preservation issues. The founding of ParentCareUSA was a direct result of their vision to provide coordination and management of these services.
2012
Understanding the increasing complexity and necessity of advocating for families, Attorneys Andrew Christensen, John Welch and Sharon Meyers purchased ParentCareUSA. They have created a team of nurses, social workers, and Medicaid Application Specialists to provide advice, consultation, and the implementation of action plans for caregivers, whether around the corner or across the country. With combined experience of over 195 years, they are knowledgeable professionals who can assist their clients in their care-giving needs.
OUR CAREGIVERS
The owners and managing partners of ParentCareUSA are experienced Elder Law Attorneys.
We supervise and manage every aspect of the daily operations of ParentCareUSA to ensure that we provide the best service possible. As the challenges facing our elders and their families become increasingly complex, the benefits of steady stewardship provides a unique advantage to our clients. We pride ourselves in rising to the challenge with our outstanding staff of highly compassionate, motivated and competent specialists. All of our managing partners are members of the National Academy of Elder Law Attorneys (NAELA) and the Massachusetts Chapter of NAELA.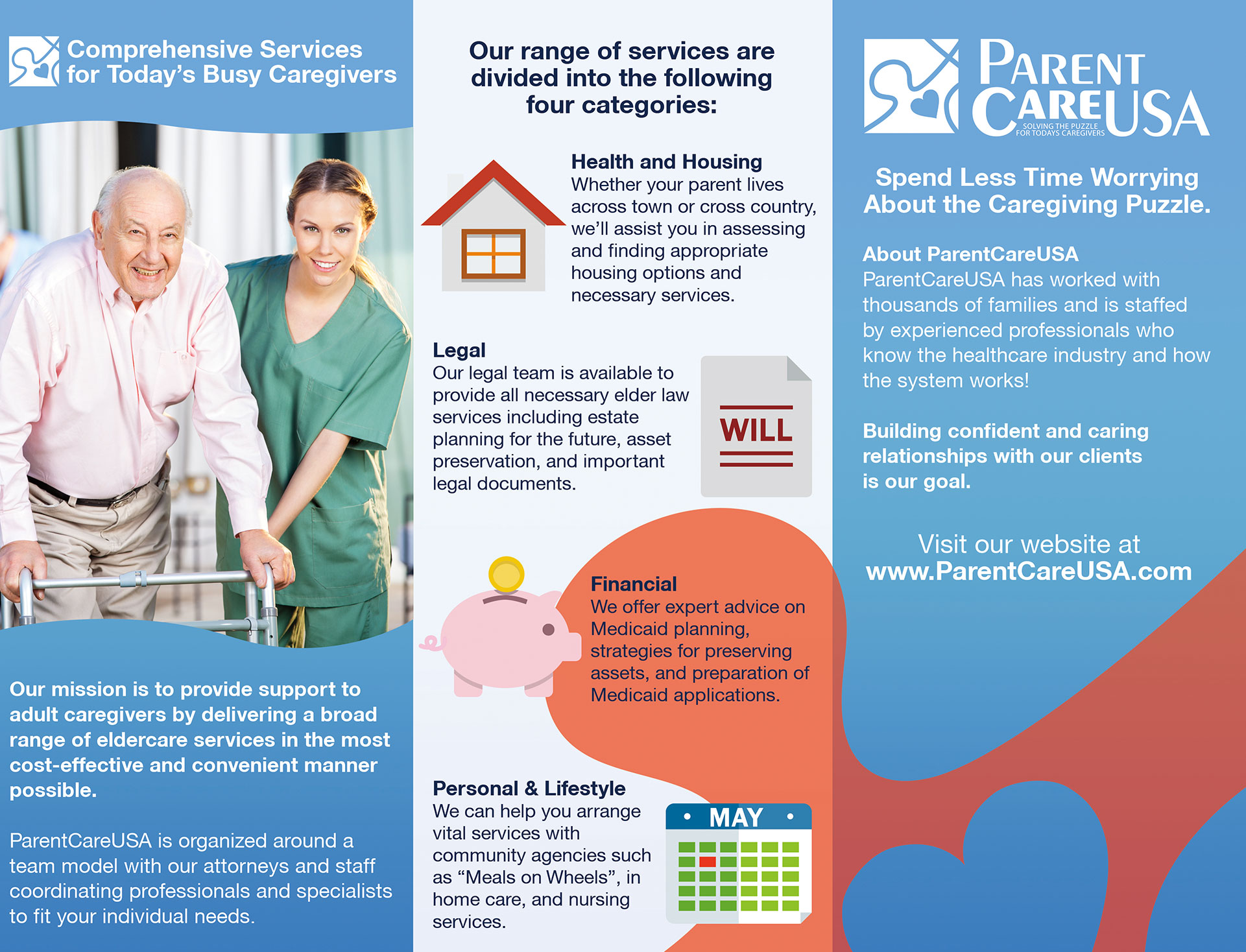 Below is the link to a PDF file of our online brochure, which overviews ParentCareUSA's services and company information from this web site. Feel free to print as many copies as needed to share and discuss with your family and friends.
CONTACT
We are very interested in hearing from you. Whether you have suggestions, questions, comments or need more information about our services and fees, please feel free to contact us.